==Background==
Verryckt is an asylum foiund on the outskirts of germany. This level takes place a year after the war (1945). This campaign unlike the natch der Untoten is meant for 4 people instead of 2. This level now has Perk machines that allow the players to buy perks. The perks you can get are: Quick Revive, Juggernaut, Douple tap and speed up (which works as slight of hand and speeds up your ability to repair windows).
==Areas==
=power room=
A room were to get any of the perks you have to flip a power switch and then the machines turn on and the barrier that seperates the two starting rooms is lifted.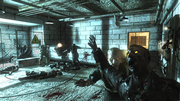 Ad blocker interference detected!
Wikia is a free-to-use site that makes money from advertising. We have a modified experience for viewers using ad blockers

Wikia is not accessible if you've made further modifications. Remove the custom ad blocker rule(s) and the page will load as expected.